The yen will strengthen almost 20 percent to 90 per dollar by early next year as Bank of Japan Governor Haruhiko Kurodas negative interest rates fail to weaken this years best-performing Group-of-10 currency, says former trader Eishi Wakabayashi.
Known as mad dog for his aggressive trading style during a 50-year career in foreign-exchange markets, Wakabayashi analyzed long-term charts to predict the yens record high in April 1995, the end of its strength in the start of 2012, and the ascent toward 100 this year when the currency was around 120. Now hes predicting Japans currency will rise to levels unseen since January 2013 from 107.31 per dollar as of 10:08 a.m. in Tokyo Tuesday.
Currencies arent moving on interest rates — they move in a wave motion, said Wakabayashi, the president of Wakabayashi FX Associates Co., an investment information service firm in Tokyo. How can you explain by the interest rate differentials the move from 121 to 105 yen as Japan decided to adopt negative rates? The yen will advance even with negative rates because it is currently in a rising phase.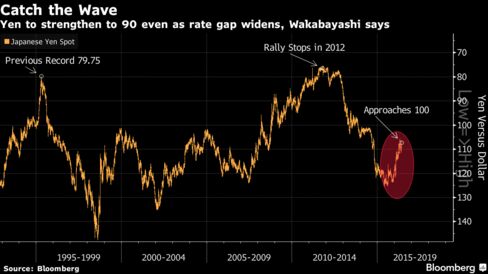 Japans currency has gained about 12 percent this year, posing an obstacle to the BOJs efforts to push inflation to 2 percent with record assets purchases and a negative interest-rate strategy. Policy divergence between the central bank and the Federal Reserve did little to prevent the yen from reaching an 18-month high in May. The currency also attracted demand as a safe haven amid speculation U.S. rates will rise and uncertainty whether the U.K. will stay in the European Union.
Wakabayashis forecast goes against the trend. According to a Bloomberg survey of analysts, the currency is projected to end this year weaker at 115 per dollar.
Mad Man
Theres not much Kuroda can do to change the currencys long-term trend, based on chart analysis, said Wakabayashi, who joined Bank of Tokyo, now Bank of Tokyo-Mitsubishi UFJ Ltd., in 1966.
The way Kuroda adopted negative rates shows he is totally a mad man, Wakabayashi, 72, said in an interview in Tokyo on June 2. To do something totally for surprise is an impermissible act for a central banker. Markets are telling Kuroda, Dont do anything, we wont listen to you.
While Kuroda may not have much influence on the yens direction, he may succeed in getting prices to pick up next year as Japans economy improves, Wakabayashi said. He pointed to a recovery in the high-end condominium market and a better job market for university graduates as positive signs.
Gold Attractive
After the yen approaches 90, it will revert back to a weakening phase until the middle of 2018, before eventually rebounding to as high as 65 yen by March 2022, said Wakabayashi, who bases his analysis on trends lasting 40 1/2 years. What goes up must come down.
He foresees an era of global deflation, and recommends investors seek capital gains and buy gold. The metal may climb to $6,000 in the next six years as U.S. stocks collapse and the nation struggles to spur inflation, he said. During the Great Depression, when the price of gold was fixed, mining stocks of the commodity jumped sixfold in the five years from 1930, according to Wakabayashi. Gold is currently at about $1,245 per ounce.
Under deflation, asset values fall across the board, Wakabayashi said. How do you protect your financial assets? Its easy — Buy gold.
Source: http://www.bloomberg.com/